Spring 'To Do' List For Homeowners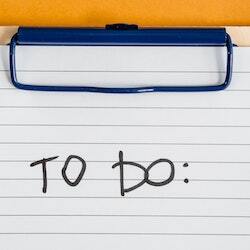 Spring is here and with May upon us, it is time for the warmer weather to come back and stick around. The Spring 'To Do' list is normally in full swing by now or at least on the radar for many regarding things that need to be addressed with their homes. That means tackling projects inside and out. We love a good power washing of the home's exterior and tending to our lawn and gardens once the warm weather starts coming back each year! Others like giving their front door (and maybe even a room or two) a new hue! If you are thinking about making a home update or planning ahead in general this Spring, don't forget about your heating and air conditioning system! Most do not think about their system until it's too late.
The average life of an air conditioner is 15-20 years with proper maintenance and tender loving care while operating. Your furnace can last just as long. Yes, both units can last longer than that, but repairs, efficiency, and utility costs for operation can start becoming an issue after their average life expectancy. You can take action sooner rather than later OR you can wait and take action when the repairs become a constant concern, your utility bills start to rise, and the overall comfort level in your home starts to decline.
If you have already reached and/or exceeded the average life of your system, now would be the time to start reviewing options for your new system. From Federal Tax Credits to No Interest Financing options, we've got what you want or need!
The choice is your choice for the making. We want to make sure you get the new system that you desire. There is a conversation to be had regarding this and that requires input from both sides though! So jot down what you want from a new system, any questions that you have. Now close your eyes and think about your current system and any issues that you have noticed. Write those down too! We don't just install the box, we like to think outside it and find the right solutions for those pesky issues. Addressing your concerns and improving your home comfort is a priority for us. It is not a 20-minute decision for homeowners and not one that most want to make during the dog days of summer (or during the coldest night of winter) either unless they absolutely have to!
So for your 'To Do' list this Spring- add a note to tackle your 'Home Comfort'.
When you are ready, we will be here. In the meantime, It's never too late for maintenance!